ORF – The Austrian Broadcasting Corporation
ORF is formally a foundation under public law and as such must fulfill a number of duties and mandates laid down in the ORF Act.
Being a public service radio and television company, ORF is not profit-oriented, and invests all revenue – half of which comes from radio and TV licence fees, the rest from advertising and other income – directly into the programmes and services it provides to its ORF audiences.
The ORF's main headquarters and studios are located in Vienna, and the company also operates regional studios in all nine Federal Provinces and maintains a worldwide network of correspondents who contribute to its varied range of programmes in all three media.
TV channels
ORF 1 and ORF 2 broadcast a rich variety of programmes consisting of current news, in-depth information, documentaries, TV-magazines, reports, talk-shows and other shows, movies, and TV-series.
The main target group of ORF 1 are rather young, cosmopolitan, and urban audiences. Its repertoire includes children's programmes - free of advertisement and violence - and major sports events, as well as contemporary films and series from Austria and the rest of the world, shows and comedies.
ORF 2, on the other hand, addresses a more mature and traditional audience, broadcasting in-depth information, documentaries, and debates. High culture, religion, and science also feature prominently in ORF 2 programmes.
ORF III is a special-interest channel for information and culture.
ORF Sport Plus is a special-interest channel for sports.
Radio channels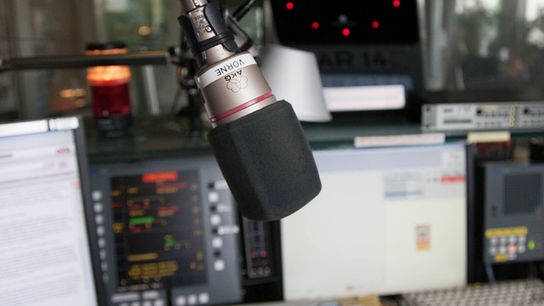 ORF.at/Thomas Hangweyrer
Ö1 is a special-interest channel specializing in culture and information, placing an equally strong focus on science, religion, and debates on socio-political issues. It is free of advertisement and counts amongst Europe's most successful public-service radio channels.
Ö3 is the mainstream radio channel of ORF, accompanying Austrian radio audiences throughout the day with a rich mixture of music, information, comedy, and services. The channel has a loyal family of listeners who regularly join in its active participation campaigns for humanitarian and social projects.
FM4 focuses on contemporary youth and popular culture outside the mainstream, and broadcasts in both German and English, also featuring news in French.
The regional studios
The ORF's regional studios in the nine Austrian Federal Provinces produce their own radio programmes around the clock, as well as half an hour of regional TV news every day, which are broadcast in the local windows of ORF 2. Off the air, the regional studios have established themselves as an important vehicle for local culture in their respective Federal Province.
orf.at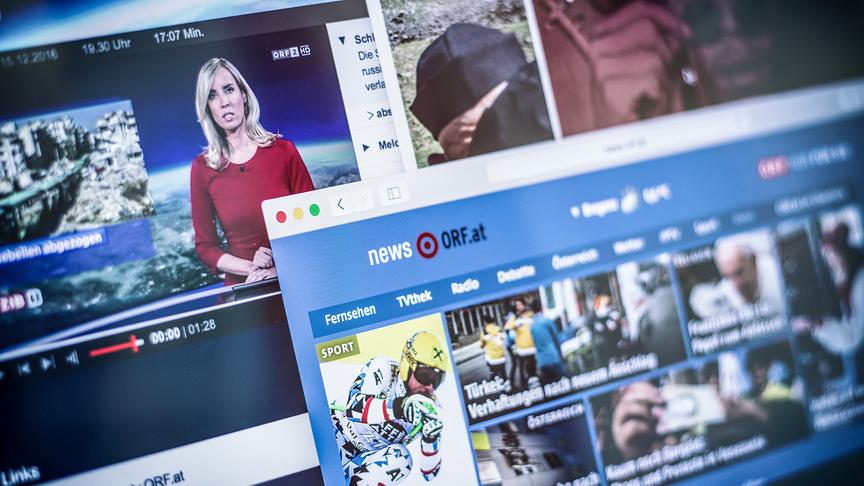 The ORF's websites post the country's most coveted online news, also providing in-depth background information and a comprehensive set of services. Moreover, the "ORF-TVthek" features a 7-day catchup of most television formats, allowing viewers to watch the programmes they missed online.
ORF International
Most of the television programmes of ORF 2 are also available throughout the continent via the Astra digital satellite at ORF 2 EUROPE, conceived as a service for Austrians abroad and for all viewers in Europe interested in Austria and its culture.
In cooperation with the public service broadcasters of Germany and Switzerland (ARD, ZDF, SRG SRF), ORF also operates the special-interest channel 3Sat, which specializes in culture and science.
Moreover, ORF is an active partner of the German-French ARTE culture channel and contributes Austrian programmes to the Bavarian education channel Bayern Alpha (Germany).
History
The roots of ORF can be traced back to 1924; after World War II, the company began broadcasting television, and was re-established in 1958. In 1964, a group of newspaper editors and journalists launched the first Austrian referendum aiming to free ORF from political influence and to put an end to the proportional representation of political parties in the company's management. The referendum was a huge success (832,353 signatures, 17.27% of eligible voters), eventually leading to the ORF Act that entered into force in 1967 and was amended several times ever since.
Facts & Figures
Management

| | |
| --- | --- |
| Director-General | Alexander Wrabetz |
| Commercial Director | Andreas Nadler |
| TV Director | Kathrin Zechner |
| Radio Director | Monika Eigensperger |
| Technical Director | Michael Götzhaber |
Market Leadership
ORF is the leading multimedia platform in Austria and one of Europe's most successful public service broadcasters with an audience of millions. ORF is the undisputed Austrian market leader in television, radio and online.
ORF-Television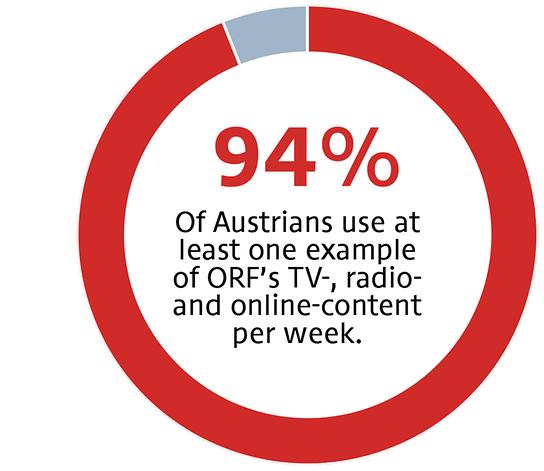 Every day, 49% of Austrians are watching ORF-TV-programs (3,7 million viewers) and these numbers rise to a weekly reach of 74,4% (5,6 million viewers). In 2018, the two main TV-channels (ORF eins & ORF 2) together reached 29,8% market share (people older than 3 years). The entire ORF television-fleet (also including ORF III and ORF Sport+) reached a market share of 31,8% in 2019.
ORF-Radio
Every day, 63,2% of Austrians are tuning in to the ORF-radio-programs (4,9 million listeners) and these numbers rise to a weekly reach of 85,2% (6,67 million listeners). In 2019, the ORF radio-fleet reached 74% market share.
ORF-Online
Every day, more than 16% of Austrians use the ORF.at-network (more than 1 million users) and these numbers rise to a weekly reach of 38,1% (2,5 million users). 93,5 million visits per month make ORF.at the most successful Austrian news-website by far. ORF-TVthek is the most successful video on demand platform in Austria; more than 686.000 people use it every week, which represents an impressive 10,4% of the whole Austrian internet population. ORF's second screen apps are among the most popular in Austria, already having been downloaded over 9,75 million times.